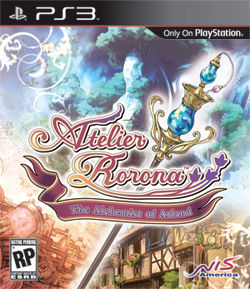 Atelier Rorona packs a ton of replay value since it has soooo many endings. How many? Over 30.
If I recall correctly, the ending you get partially depends on Rorona's relationship with other characters. There is a hilarious ending that involves a certain baked treat too… Just something to keep in mind when playing Atelier Rorona the first time when NIS America releases it in September.
That's the US box art on the right, which strangely doesn't show Rorona. We get her staff instead. My guess is Rorona, being her usual clumsy self, forgot to show up for the cover art shoot.