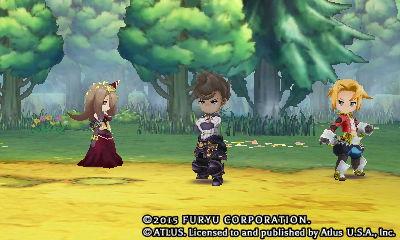 When it comes to Atlus and Furyu's The Legend of Legacy, people are going out of their way to compare it to other games in an attempt to help people understand how it works or why it's appealing. You may hear how it's a callback to the SaGa series, due to its seven playable protagonists. (All of which become party members in your chosen hero or heroine's tale, by the way.) Some are referencing Bravely Default or Final Fantasy: The 4 Heroes of Light, due to a visual presentation that makes everything look like some sort of sepia-toned pop-up book. There's a game everyone should be referencing when talking about The Legend of Legacy though, and no one is. I'm talking about Final Fantasy II.
Final Fantasy II was something of a black sheep of the Final Fantasy family. It had an unusual leveling system where characters gained specific levels in certain stats based upon actions players had them take in battle. In this way, people were able to determine their own "classes" for characters in their party based on practical usage. The Legend of Legacy functions in a similar manner.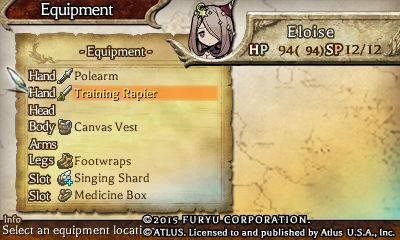 Each character in The Legend of Legacy has equipment slots that determine what can be brought into battle. For example, they have two hands that can equip a weapon or shield each and two slots for accessories or items. I chose Eloise as my lead character and chose to equip her with a polearm, silver claw, Singing Shard and medicine box. The polearm and silver claw allowed her to perform attacks in battle, the medicine box let her heal one ally up to 100 points with no usage limitations, and the Singing Shard was a charm that aligned with Water Elementals for magic attacks.
This meant in battle, Eloise had five categories with actions she could draw upon. The polearm and silver claw were for general weapon-based attacks, with skills that used skill points opening up as she became more accustomed to using the weapons. The medicine box let her heal allies. The Singing Shard provided access to water magic. Plus, she could always go unarmed for fist-based attacks. Other stats, like health and attack, level up gradually in battles.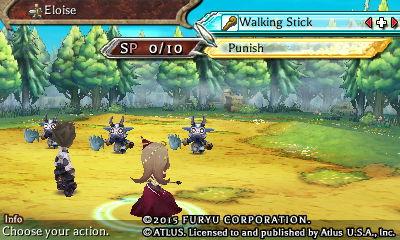 While Eloise turned into my Jill of all trades in Legend of Legacy, Owen quickly fell into a defined role. This is a surprisingly difficult game, with even initial battles requiring one character acting as a tank. Since Owen came equipped with a buckler, he became the party's protector. Sure, he had a Sword of Tragedy that was very effective for doling out damage, but actions in-game quickly brought his Guard level up to 17, reducing the damage he'd take when stepping in for one of his allies.
Especially helpful is the fact that these characters level up during battle. If Liber's Sharpshooter arts, tied to his bow, leveled up in the middle of a fight, he would suddenly start dealing more damage to opponents. When Eloise's staff prowess improved, the Hindering Blow skill was suddenly available. It's handy, considering how difficult The Legend of Legacy can be.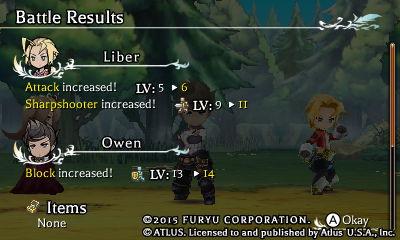 It's a smart system, which makes it more surprising that more games don't use it. Some of the only others in recent history that focus on levels for weapons to increase damage and skills are titles in the Disgaea and Rune Factory line. It adds a sense of realism to games, since it stands to reason that The Legend of Legacy's heroes and heroines might become more proficient with a weapon after using it to put the smackdown on about forty Warrior Drones.
The demo for The Legend of Legacy is immediately available in the Nintendo 3DS eShop. People who grab it can try it 30 times. Make sure you save at least one of those tries though, as save data can carry over if you decide to purchase a full copy of the game when it is released on October 13, 2015.