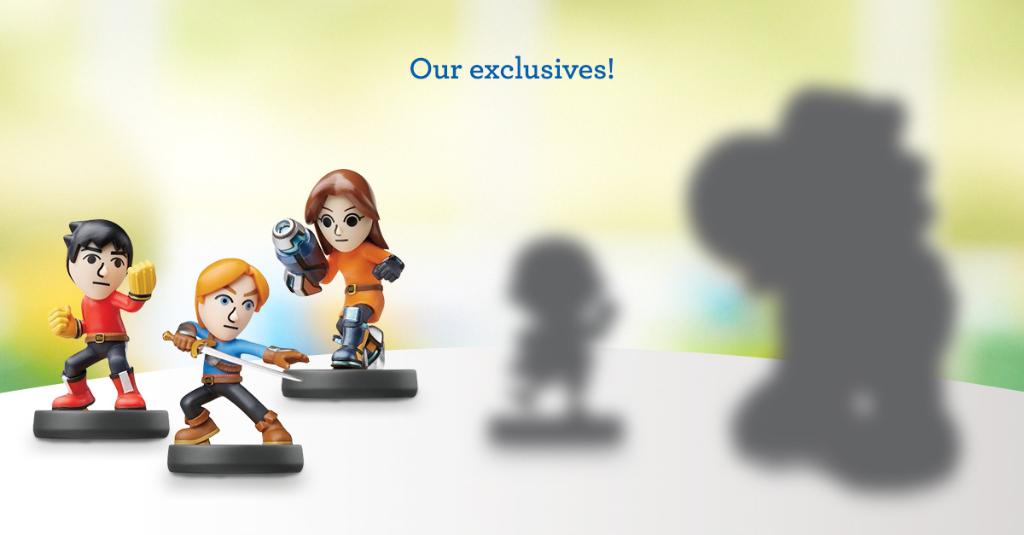 The official Toys R Us Twitter account has provided a release date for the next Super Smash Bros. amiibo 3-pack. The tweet says the Mii Fighter amiibo 3-pack, which contains the Mii Brawler, Mii Gunner, and Mii Swordfighter amiibo, will be released on November 1. Toys R Us also refers to the 3-pack as one of its exclusives.
More interesting are the shadowy figures adjacent to the Mii Fighter amiibo in the announcement. Toys R Us' image has shadowy figures of the Villager and Mega Yarn Yoshi amiibo. The former was among the first run of Super Smash Bros. amiibo, but has since been out of print in North America. The Mega Yarn Yoshi amiibo is an extra large, $39.99 plush toy with a November 15 release date.
Nintendo has yet to announce any exclusivity arrangements with the Mega Yarn Yoshi amiibo or amiibo restocks.
The price of the Mii Fighter amiibo 3-pack has yet to be confirmed. The Splatoon 3-pack and Retro 3-pack were $34.99 each, but Toys R Us tends to sell NFC figures at a higher price point than other retailers.