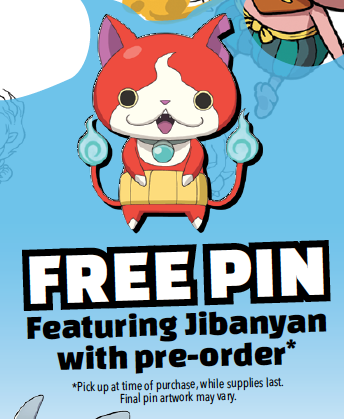 GameStop has taken to Twitter to announce a pre-order promotion for Yo-Kai Watch, Level-5's Pokemon style Nintendo 3DS game. Those who commit to purchasing the $39.99 JRPG at launch will receive a pin of Jibanyan, one of the game's mascot characters and recruitable Yo-Kai.
Jibanyan is a fire-type cat Yo-Kai inspired by the mythological nekomata, a two-tailed cat. Jibanyan was an ordinary cat until he was unfortunately run over by a car. His spirit attempts to fight all cars as a form of revenge until he becomes part of the player's party.
Yo-Kai Watch will be released on the Nintendo 3DS on November 6.